For anyone here interested in challenges/stories/legacies pertaining to The Sims 3 who doesn't want to have to sift through all the TS2 posts, you should come over to
simsthree
. You can post your TS3 legacies, pic spam, or create/read challenges. You should go take a look. (And join!)
(If this isn't okay, sorry! It's okay if you delete it.)
Hello~
1. How poseable will the sims be for taking pictures of; with TS2 different expansions made different poses and animations available, will TS3 have those straight off the bat or will we have to wait for any expansions?
A: The Sims play a huge variety of animations to portray their traits and moods. You should be able to find the right animation for any scene.
2. Will the in game camera still have the same limitations in TS3 as it
does in TS2 for setting up and taking well composed and good quality
images?
A: The in-game camera in The Sims 3 works similarly to the camera in The Sims 2.
3. How customizable are sims going to be in terms of hair and clothing,
will people still be able to create custom content for the games or
will we have to stick with the preprogrammed content?
A: Players can now customize every part of a Sim's hair, including the roots, tips, base, and highlights. You can then save these for future use, or to share with others online. Players can also use Create-A-Style to change the patterns and colors of every pair of shoes, pants, accessories, or shirts in the game. It's incredibly flexible and very easy to use.
Sponsored by EA.
Order your copy of The Sims 3 today
Community moderators were asked to come up with two or three questions relevant to their community that would then be answered by an associate producer of The Sims 3. I submitted our three questions and have had answers back from associate producer Grant Rodiek, so here they are along with the questions:
simnels
let alone plan any challenges, and
javabean_dreams
appears to have gone awol from the comm member list I will have to look into that. So right now I am currently in England for a three week holiday, but when I return home from that at the end of the month I promise you all I'll have loads of challenges cooked up!
Now! Onto the main reason for this post aside from my apology, I am sure by now most if not all of you have heard about the amazing opportunity that has been presented to mods of various livejournal sims communities in regards to promoting the sims 3 game. Well we've been asked to participate and I have agreed to do it! So what is going to happen is, from MAY 15 to JUNE 15 this comm will:
- have a Skin with a Sims 3 background.
- have a Sims 3 ad placed in the community from May 15 to June 15.
- create 4-5 Sims 3 sponsored posts.
- have 2-3 posts containing exclusive Sims 3 content.
- have 2 posts promoting the Sims 3 game giveaway (which is unfortunately only available for US citizens, no one from other countries willl be eligable to win the giveaway.)
We are one of TEN LJ communities doing this promo, so there will be lots of other opportunities for US simmers to win a copy. Some other comms involved whose names I can remember at the moment are
sim_spam
and
wcif_sims
.
Firstly I wanted to apologize to you all for an abasence of mods and a lack of the promised challenges, I've been busy with school (just finished my last semester of my BA) and I haven't had much chance to talk with
Death Note
, but right now they're just models. This has nothing to do with the show :)
Rating: K. Nothing I wouldn't show my mom.
Extra warnings: Two males in close physical contact. Could be taken as close friendship, could be taken as something more - I leave that up to you.
Image count: 6 images not including the preview picture. All are 467x300 .png images :D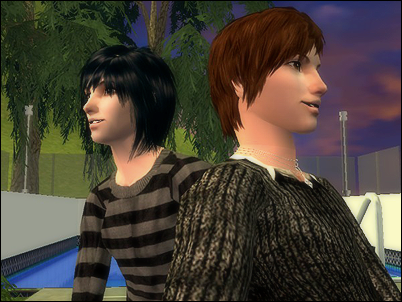 On the surface, simplicity
The desire to do a photoshoot struck, and this is the result! The sims were originally made to be from the anime
Here is Violet Passion!
She is a favorite of mine, and lives in Pleasantview.
Click to go see more pictures at my journal.
This is my second attempt at posting other than on my journal in the same night. If I made a mistake, kindly let me know. Thanks.